If, like me, you are prepared to believe that the Sheriff on Nottingham has a sudden Marxist epiphany that there are Robin Hoods all over the country ready to topple the odious King John, that it is Robin himself who forces John's hand to create a great charter for the people (and call it Magna Carta), and that they are all terrified into doing this by a baby dragon, then you would have had as much fun at the New Vic's production of Robin Hood and Marian as we all did last week. Students and staff bought their extra-small students (ranging from 5 to 11ish) to enjoy the perfectly pitched and paced singing, dancing, juggling and tumbling, and proper scary sword fighting. We even had the added excitement of the set catching fire a little bit. My 7 year old was seeing it for the 3rd time – once with school, once with family and friends, and here on the departmental outing – and was still mesmerised.
Marian here is cast as Robin's equal in sword fighting and archery, instead of just his love interest and a damsel in distress. And, because the New Vic is theatre in the round, the whole audience are within a sword's length of the stunning fight sequences, leaving everybody on the edge of their seats. The circular stage becomes the archery target on which the struggle between the sheriff, Robin, and the brilliantly name Hubert the Archer (son of Hubert the Archer, son of ….) is played out.
This family production, which thankfully avoids any pantoness, is as impressive as the wonderful The Lion, the Witch and the Wardrobe which the Vic put on a few years ago and productions of which are staged all over the country every year. Recent years have seen Alice, The Borrowers and 101 Dalmatians; I can't wait to find out what next year will bring.
This spring we will taking in Northern Broadside's Merry Wives, a new production of Pinter's The Caretaker, and perhaps a trip to the RSC to see Hamlet.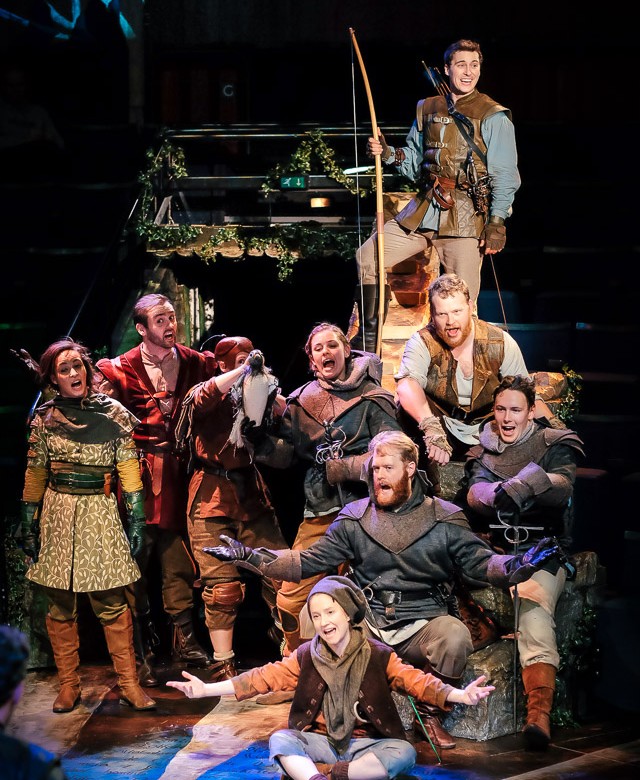 New Vic Theatre