Teenagers at Cheadle Academy Sixth Form College have released a charity single to raise vital funds for the Douglas Macmillan Hospice.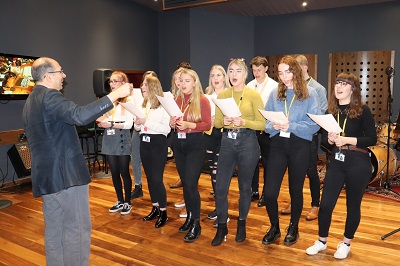 It's been a really exciting project to be able to raise the profile of the school choir and offer our expertise and resources to create, record, produce and release the single and video to raise money for a charity which has touched so many people's lives.
Matt Brindley-Sadler, Associate Dean
The song, which was recorded and produced in Staffordshire University's state of the art Cadman Studios, is in memory of their former teacher Craig Beverley who received end of life care from the Stoke-on-Trent Hospice.
University staff and students from Music and Sound have helped the choir arrange, record, produce and launch the charity single. Associate professor Marc Estibeiro and Head of Department Luke Scott have also supported the choir at their performances, including University Open Days and the academy's annual concert, and have been able to offer advice, guidance and mentoring in relation to producing the single.